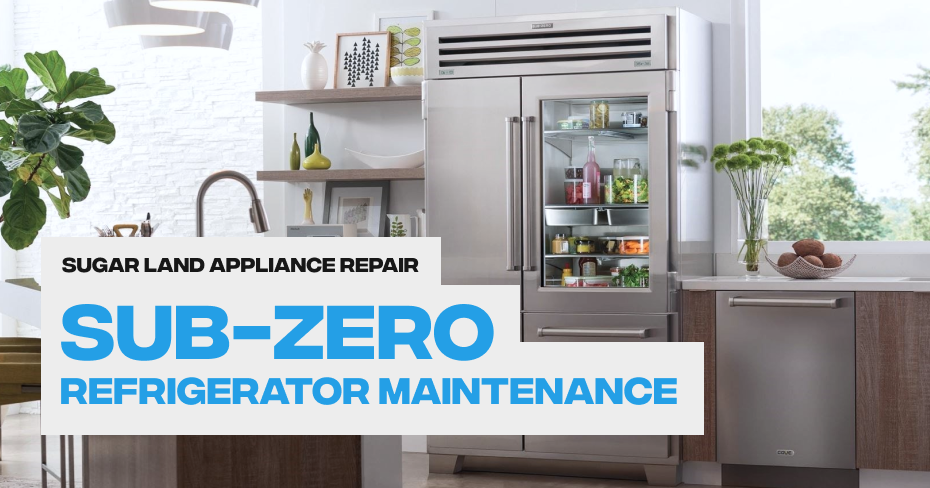 Top Signs You Need Sub-Zero Refrigerator Maintenance
Sub-Zero refrigerators are renowned for their exceptional quality and performance. To ensure your Sub-Zero refrigerator continues to deliver optimal cooling and storage, regular maintenance is key. Watch out for these signs that indicate it's time for maintenance in both the refrigerator and freezer compartments:
Sub-Zero Refrigerator Compartment
Inconsistent Cooling: If you notice temperature fluctuations within your refrigerator, it's a sign that the cooling system might not be functioning efficiently. Certain areas may become warmer than others, affecting the freshness of your stored items.
Excessive Condensation: If you spot excess moisture or condensation inside your refrigerator, it could indicate a problem with the door gaskets or a faulty defrost system. Properly functioning gaskets are essential for maintaining a consistent temperature.
Unusual Noises: While some noise is normal, loud or unfamiliar sounds like buzzing, clicking, or rattling might indicate an issue. These noises can stem from malfunctioning fans, motors, or compressor components.
Frost Buildup: While Sub-Zero refrigerators are designed to minimize frost, significant frost accumulation on the evaporator coils could be a sign of a defrost system malfunction. This can impact cooling efficiency.
Sub-Zero Freezer Compartment
Softened or Thawed Items: If frozen foods are thawing or becoming soft, it could mean your freezer is not maintaining the necessary low temperatures. This might be due to problems with the compressor, condenser coils, or other cooling components.
Buildup of Ice: Excessive ice buildup on the freezer walls, shelves, or food items can indicate poor air circulation. This can be caused by a faulty evaporator fan, defrost system, or door gaskets.
Foul Odors: If your freezer is emitting unpleasant odors, it's time to inspect for expired or spoiled items. Additionally, check for any mold or mildew growth that could be a result of moisture infiltration.
Why Regular Maintenance Matters
Regular maintenance not only addresses these signs but also prevents potential issues from escalating. Scheduled maintenance can extend your Sub-Zero refrigerator's lifespan, enhance energy efficiency, and ensure your food stays stored at the optimal temperature.
Rely on Professional Expertise
If you've noticed any of these signs, it's recommended to seek professional assistance for Sub-Zero refrigerator maintenance. The skilled technicians at Sugar Land Appliance Repair possess the experience, tools, and necessary spare parts for effective diagnostics and issue resolution. They can conduct a thorough inspection, clean the condenser coils, replace worn gaskets, and ensure optimal operation of all components. Contact us at (281)-688-6505 or schedule an appointment, and our experts will promptly address any issues with your refrigerator on the same day!
Incorporate scheduled maintenance into your Sub-Zero refrigerator care routine in Sugar Land to enjoy all the benefits of this top-tier appliance. With consistent upkeep, your Sub-Zero refrigerator will continue to operate exceptionally efficiently, keeping your groceries fresh and functioning seamlessly in your kitchen.