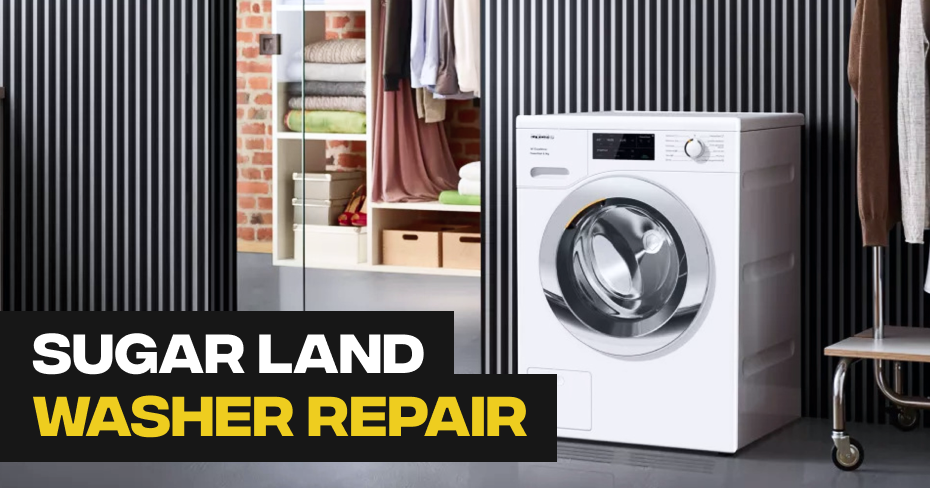 Professional Washing Machine Repair Services in Sugar Land
Is your washing machine causing you trouble in Sugar Land? Don't worry! Sugar Land Appliance Repair offers top-notch washing machine repair services. Our team of skilled technicians will assist you, addressing minor glitches to major malfunctions. Let's explore some common washing machine problems and their solutions that we frequently encounter in Sugar Land:
Washer Not Agitating: This might be due to a faulty agitator, drive belt, or transmission. Our technicians at Sugar Land Appliance Repair can diagnose and replace the necessary components to restore proper agitation.
Leaking Washer: Leaks can stem from damaged hoses, a worn-out pump, or a faulty door gasket. Our experts will inspect and replace the problematic parts to prevent further leaks and water damage.
Washer Won't Drain: A clogged drain hose, a malfunctioning drain pump, or a broken lid switch can lead to this issue. We'll identify the root cause and ensure proper drainage with our specialized repairs.
Unusual Noises During Operation: Grinding, banging, or squealing sounds might indicate problems with the motor, bearings, or belts. Count on Sugar Land Appliance Repair to diagnose and eliminate these disruptive noises.
Washer Not Spinning: A broken motor coupling, worn drive belt, or faulty door latch can prevent your washer from spinning. Our skilled technicians will address the issue promptly to restore normal spinning functionality.
Excessive Vibration: If your washer is shaking excessively during cycles, it could be due to an uneven load, leveling issues, or worn shock absorbers. We'll fine-tune your washer to ensure smooth and balanced operation.
Foul Odors: Lingering odors can be caused by mildew growth, trapped debris, or a dirty detergent dispenser. Our thorough cleaning and maintenance services will leave your washer smelling fresh.
Error Codes Displayed: Modern washers display error codes to indicate specific problems. Our technicians are well-versed in deciphering these codes and performing the necessary repairs efficiently.
When it comes to washing machine repair in Sugar Land, Sugar Land Appliance Repair is your reliable partner. Our experienced team and technical support service understand the importance of a functional washing machine in your daily life. We aim to provide fast, reliable, and professional repair solutions, ensuring that your washing machine is up and running again in no time.
Contact Sugar Land Appliance Repair today to receive expert washing machine repair services in Sugar Land. Our commitment to excellence and customer satisfaction sets us apart from others. Your convenience is our priority.